I dragged the boyfriend out of the bed this morning to have a photoshoot of my two finished sweaters. Please click for bigger photos (and they work now, too!).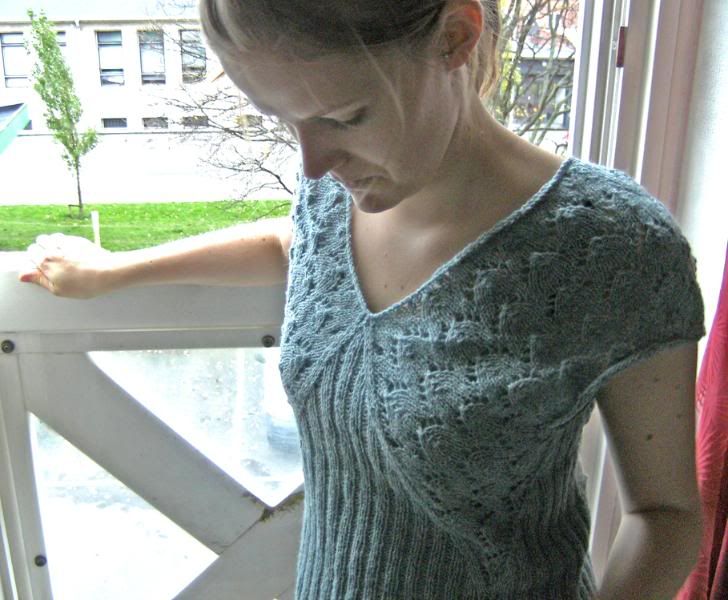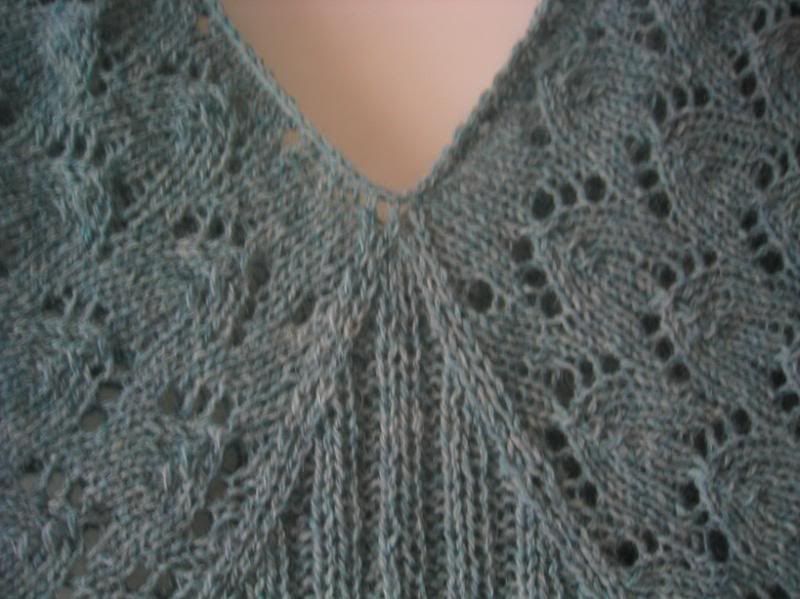 Pattern:
Serafias Vinter
, by
Geilsk
Yarn:
Geilsk 100% uld
Needles: 3.5 mm
Date started: June 22, 2008
Date finished: September, 2008
Mods: Knit the rib section a bit longer...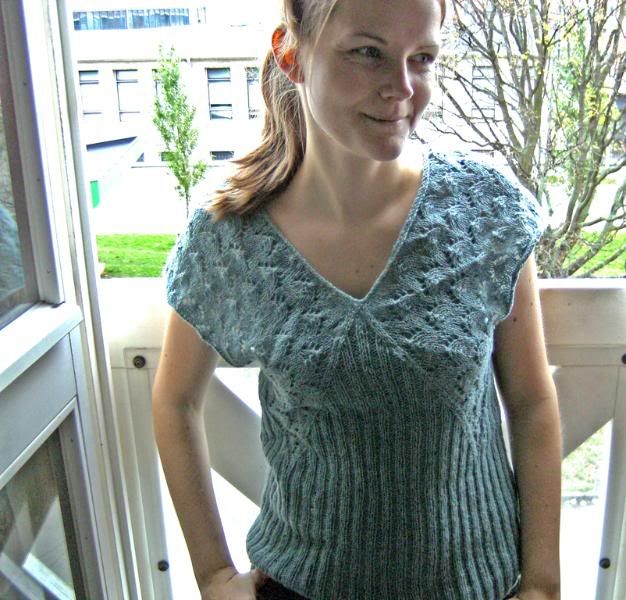 Comments: Bought as kit at Sommerfuglen in Copenhagen. I liked the pattern, the yarn is lovely (smells great and the texture and colour is lovely), and I got great service from Geilsk.
I doesn't really look that bad in these photos, but I think it is a bit large. When it has just been washed/blocked, it's okay, but it grows quickly with wear. I'm considering getting my mum to try it, she's a tad taller than me and it might fit her better. I thought I'd got gauge, but 2x2 rib is difficult to measure... :( A bit disappointing, as I'd really looked forward to wearing this thing a lot! And I was going to knit the
Livstykke
by Geilsk as well...
I am, however, going to knit a lace shawl for my Grandmother in the Geilsk 100% uld yarn, in the colour 10 - red. I haven't decided on a pattern yet (it's sooo hard!! - please help!), you can see the alternatives
here
in my queue. Please have a look.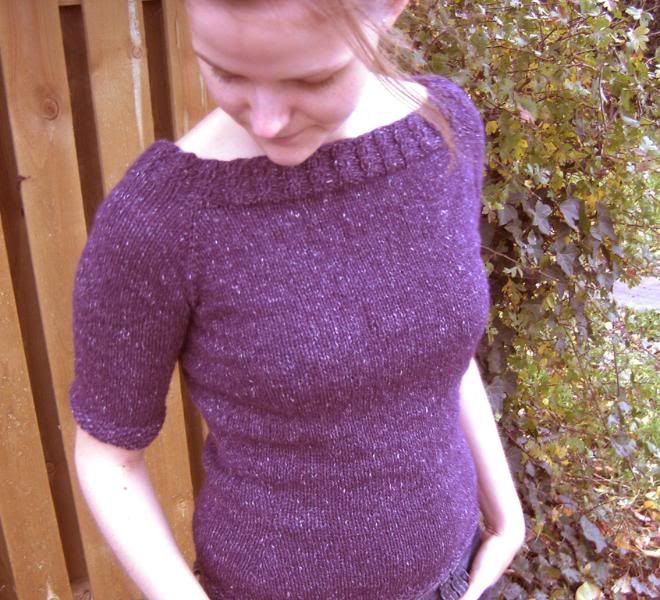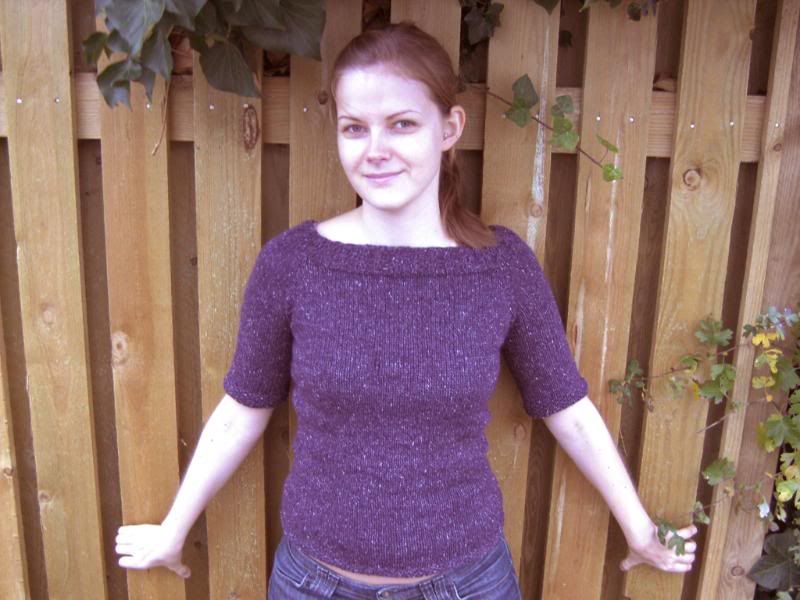 Pattern:
Wicked
(worsted weight version), by
Sarah & Rachel /Zephyr Style
Yarn: Madil Loden
Needles: 4.0 mm and 5.0 mm
Date started: October 3, 2008
Date finished: October 30, 2008
Mods: No pocket, seed st sleeve hems. A bit longer.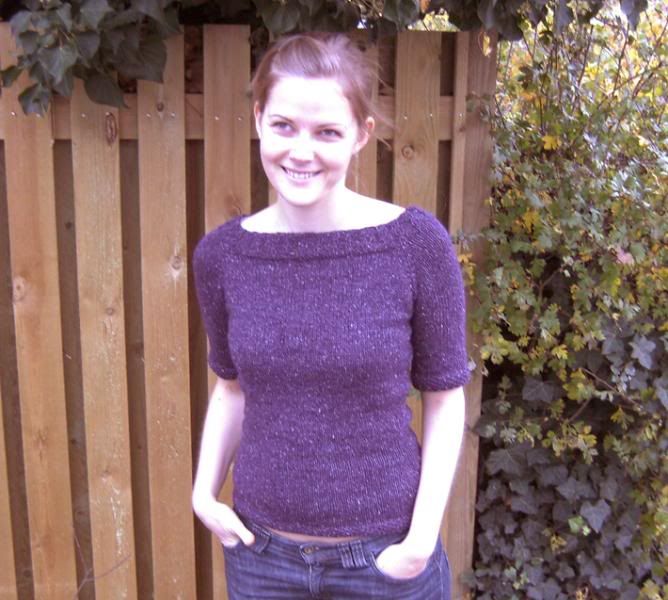 Comments: I frogged my Phildar vest for this sweater.
The pattern is really clear. I had to frog around 10-20 cm of the body, as it turned out to wide, especially the sleeves. Went back and did a couple less raglan increases than I started out with. I did much more waist shaping than suggested in the pattern.
It was meant to be 3/4 sleeves, but they are a bit short. I have some yarn leftover, and it would be great to use all of it, so I'll probably undo the bind off and continue the sleeves to I run out of yarn.
I think it fits me quite good, and with longer sleeves it will probably be a favourite sweater!
I also got some action shots with
the boyfriend scarf
, that I've been wearing a lot lately (it suddenly got COLD). I like it, its warm! And it goes quite well with my new sweater, don't you think?