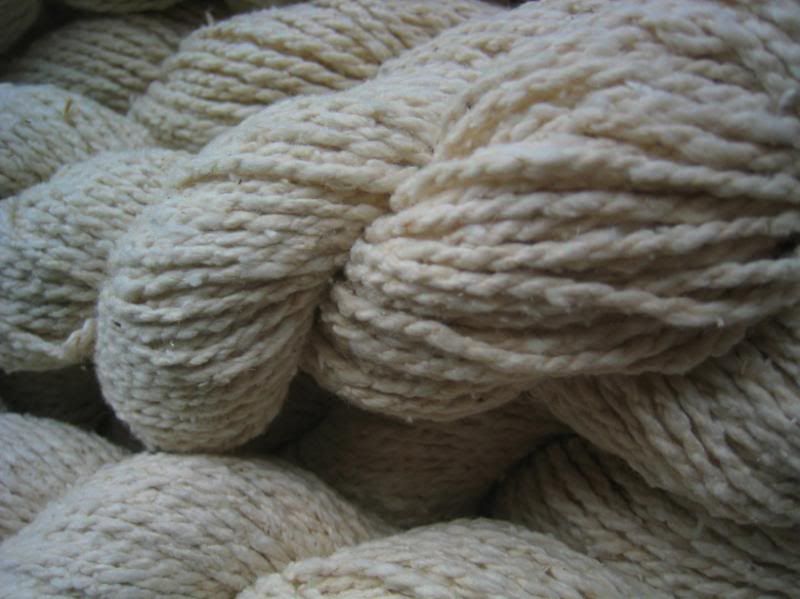 I stopped by
Wilfert's
on my way to work on Thursday. I don't usually shop there, but as I had gotten a newsletter saying they were having a sale, I decided to have a look.
I ended up with 6 skeins of
Rowan Summer Tweed
, in the colour oat. I am going to use it for
Daylight, by Martin Storey
, as I think it looks beautiful in white. I have had that pattern in my queue for a while, and bought the book, 'Rowan Kasbah Collection' this spring.
I had originally planned to use
Madil Loden
for it, as I couldn't afford the Summer Tweed, but now I got 6 skeins for 200 Danish Kroner (around 40USD) - I am so happy, because the feel of the yarn is really different from the Loden. It's lighter, and much better for summer.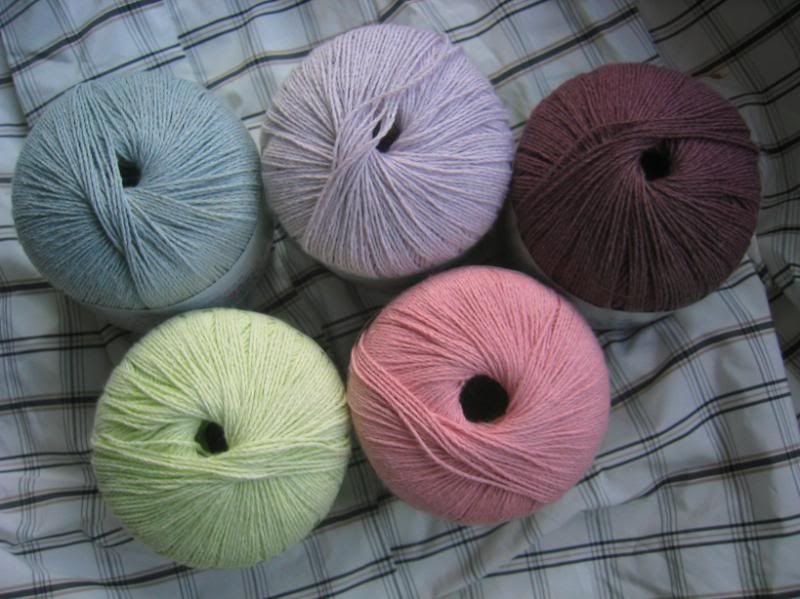 Then, yesterday, I decided to go back to have a look at the 'take 10 skeins for 100 or 20 skeins for 150'-basket. I ended up with 20... (big surprise!) 14 of them are a linen yarn from Løve Garn - Lima, in five different colours - that I would like to one day make a blanket from.
The remaining 6 skeins were 4 of
Rowan Classic Natural Silk Aran
, in a beautiful shade of light green (not entirely sure what it's for, but probably some kind of summery top), one skein Louisa Harding Kashmir aran (for the Bainbridge scarf, another neckwarmer or a pair of wristwarmers) and one skein of the really soft
GGH Soft Kid
.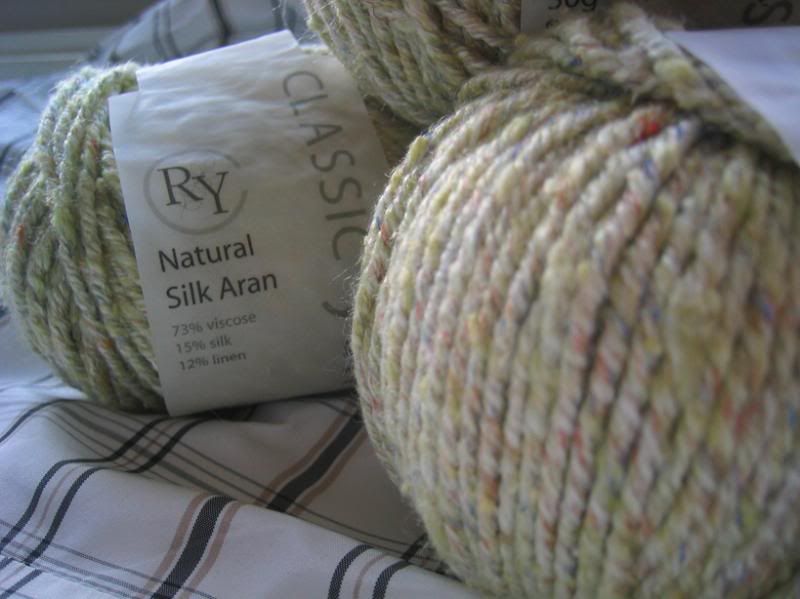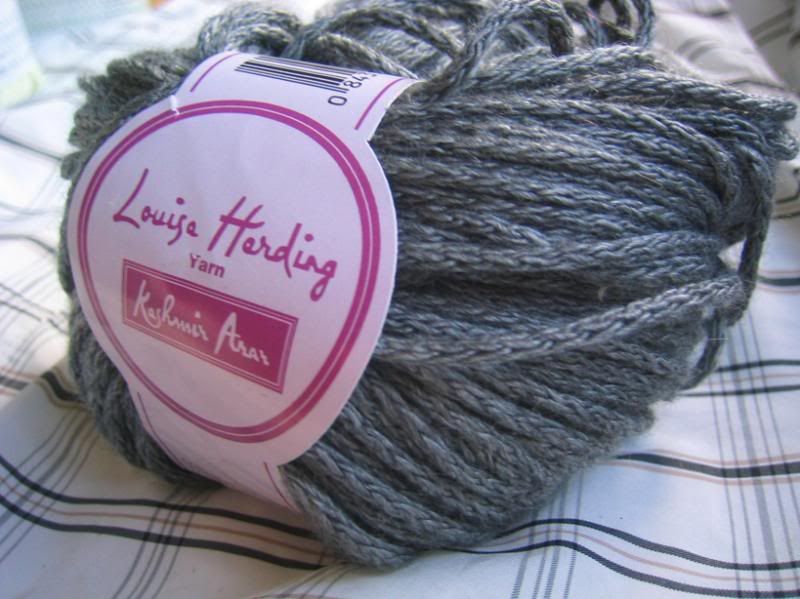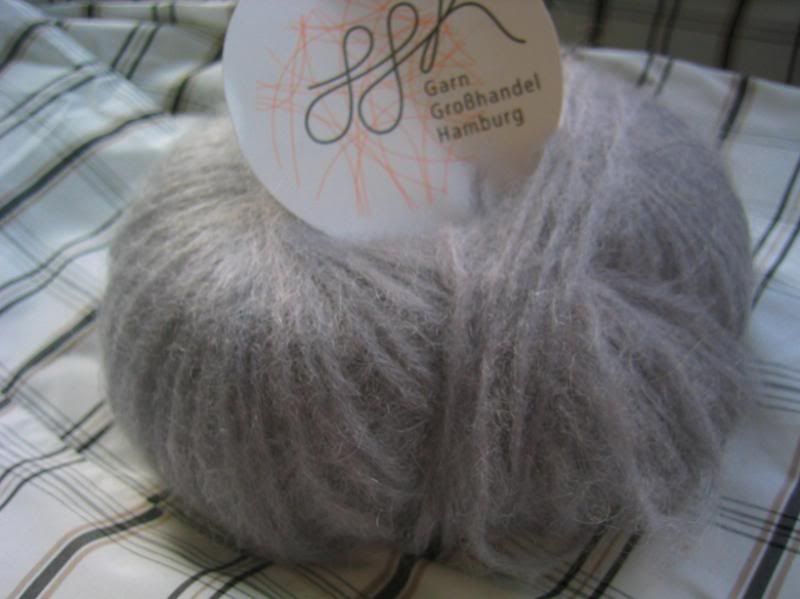 What a bargain! I have only one skein of Rowan yarn previously, the Ribbon Twist that I have no idea what to use for. I'm really looking forward to knit with one of the silk yarns. Yum!
In other news, I have finished my vest from 'Feminin Strik', by Lene Holme Samsøe.
I knitted it all in one piece, with 'fake seams' on each side. It's a tad on the smallish side, but I haven't blocked it yet. It's also missing buttons, and for now, it stays closed with a ribbon.
I was really happy to make it in one piece!! And I knit much tighter this time around (I tried making this vest once before, it turned out far too large, and I hated doing it in three parts).
The summery socks are coming along, I'm about halfway on the leg of the first one. It has been really quiet
at work
this week
, so I have knitted a tiny bit in between, when my fingers aren't all covered in paint. It took some courage pulling out the knitting the first time, but I think I'm okay with it now.
Today I got the day of - it's raining, a lot.
I love finishing things! And knitting in public! And yarn! Yay :)
Oh - and the summer vacation pictures are coming (it's just that my hard disk is almost full...)